Winter Clinics is a 30-year tradition of promoting excellence in neurosurgery
For three decades, some of the nation's preeminent practitioners of brain and spine surgery have taken a week out of their busy schedules to hone their craft.
This year, the Winter Clinics for Cranial and Spinal Surgery celebrated its 30th meeting in Snowmass, Colo. The event is presented by the Mayfield Education & Research Foundation and features the expertise of neurosurgeons and other providers from the Mayfield Clinic, one of the nation's leading independent neurosurgery practices. Underlining Mayfield's historic commitment to research and education from the nation's leading neurosurgical experts, co-hosts this year included the Mayo Clinic, the Cleveland Clinic and Goodman-Campbell Brain & Spine, and it is jointly provided by the American Association of Neurological Surgeons, the discipline's leading scientific and educational association.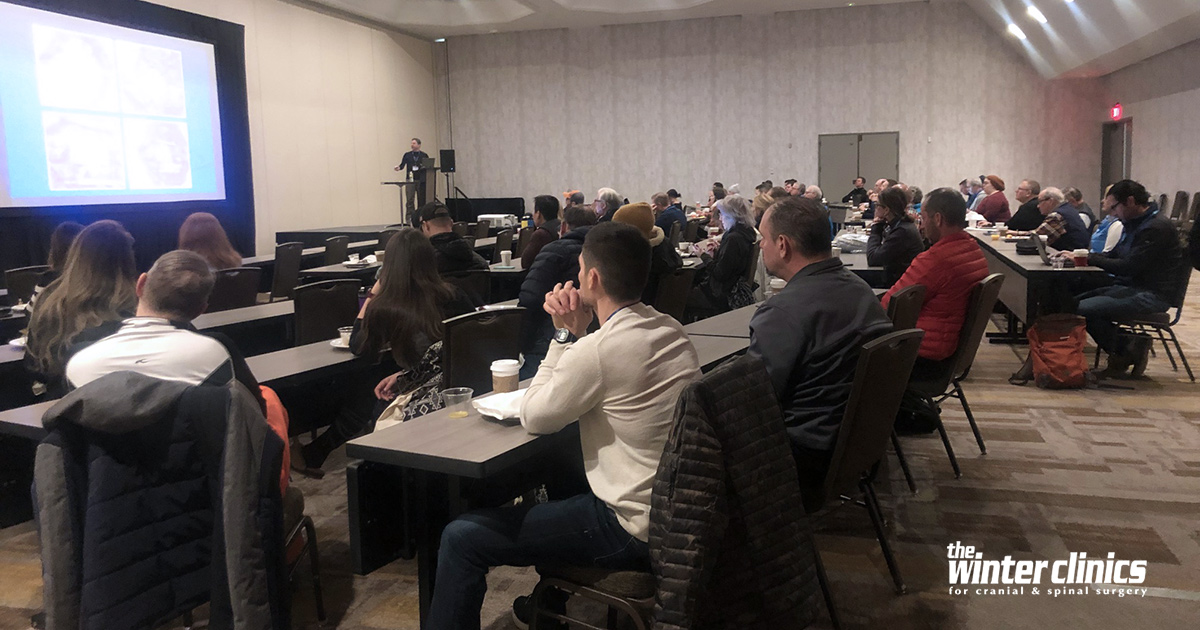 Attendees listen to a physician's presentation at the 2022 Winter Clinics, in Snowmass, Colorado.
Launched in the late 1980s by a small group of clinical leaders including Mayfield neurosurgeon Dr. William Tobler and Dr. Jeffrey Keller of the University of Cincinnati, the Winter Clinics has grown to include 135 medical professionals, plus 60 attendees from our partners in the health care industry, who attended this year's meetings in Snowmass Feb. 27 to March 3.
The event is testament to Mayfield's innovation in clinical care, education and research and its historic role in training and serving the next generation of neurosurgeons and other clinical leaders. Mayfield initiatives have expanded with new investments in research infrastructure and support, including launching clinical trials and opening the Mayfield Surgical Innovation Center, a facility near the main Mayfield office in Cincinnati that provides training in the latest techniques and technology.
"The Winter Clinics are a rare opportunity for neurosurgeons and other clinicians and researchers to collaborate and learn so they can serve their patients with distinction using the latest techniques and technology," said Dr. Tobler, who also is chair of the foundation's Board of Directors. "This annual event is an important part of the foundation's mission to advance the care of patients with brain and spine disorders through leading-edge education and research."
What makes the Winter Clinics special is the interaction between academic researchers and clinicians in sessions that are large enough to feature some of the nation's leading experts, and intimate enough to provide high-level learning with personal interactions among surgeons that can significantly improve patient care.
This year's meetings showcased 68 presentations, including an update on gene therapy for neurological disorders, an update on concussions and treatment of penetrating brain injuries and a session on improving patient access with advanced practice providers – plus a presentation on the impact of high-impact injuries on race-car drivers.
The educational sessions cover the full range of brain surgery and spinal surgery topics and also feature areas that interact with neurosurgery, including physical medicine & rehabilitation; ENT medicine, including minimally invasive and endoscopic skull base approaches; neuro-oncology, and plastic surgery.
During the last 30 years, nearly 850 medical professionals from 46 states and 23 countries have participated in the Winter Clinics, including world-renowned surgeons from academics and private practice – proof of their significant impact on the field. More than 130 companies have exhibited their medical products and innovations at the meetings, which spur a significant economic impact on the local community recognized by civic leaders in Snowmass.
Dr. Keller is a research professor of Neurosurgery, Anatomy and Cell Biology at the University of Cincinnati and a board member of the Mayfield Foundation. He has been training surgeons, residents and medical students in applied neuroanatomy for more than 40 years, and has worked closely with Mayfield neurosurgeons.
"The impact of the Winter Clinics on the profession has been notable," Dr. Keller said. "It's the people who make these meetings special. These surgeons, specialists, academic leaders, residents and other providers learn from each other and spur innovation in clinical care, education and research."
For more information about the medical education and training programs of the Mayfield Education & Research Foundation, click here.
For immediate release:
March 23, 2022
Contact:
Deborah Livingston
Development Director
Mayfield Education & Research Foundation
Phone: 513-569-5277
dlivingston@mayfieldfoundation.org
---
Cliff Peale, Senior Writer/Media Relations Specialist
cpeale@mayfieldclinic.com
Office: 513-569-5236
Mobile: 513-544-1190