Winter Clinics evolves to reflect the breadth of neurosurgical practice
Continuing a three-decade tradition of enhancing neurosurgical care through advanced education for practicing neurosurgeons and advanced practice providers, the 2023 Winter Clinics for Cranial and Spinal Surgery this year added events to recognize and promote excellence in research, with several neurosurgery residents participating.
Presented Feb. 26 to March 2 in Snowmass Village, Colo., by the Cincinnati-based practice the Mayfield Clinic, the Winter Clinics has become one of the nation's premier educational events to advance the practice of neurosurgery. It is co-hosted by the Mayo Clinic, the Cleveland Clinic and Indianapolis-based Goodman Campbell Brain & Spine, and jointly provided by the American Association of Neurological Surgeons. This year's event, the 31st Winter Clinics, included more than 150 attendees and faculty, plus 22 exhibitors. To review the program and other information, visit WinterClinics.com.
Dr. Bryan Krueger gives a presentation to attendees of the 2023 Winter Clinics.
Next year's Winter Clinics is already scheduled for March 3-7, 2024.
"Neurosurgery is always advancing, and the Winter Clinics is leading the way with top-tier education that will help providers enhance patient care," said Dr. William Tobler, a neurosurgeon at Mayfield Clinic (known as Mayfield Brain & Spine) and chairman of the Mayfield Education & Research Foundation. "This spectacular location helps us to attract our discipline's top talent. The Winter Clinics does so much more than transfer knowledge. The catalytic effect of this event spawns research and new ideas that will create groundbreaking tools and techniques – and save lives."
This year's Winter Clinics featured a research competition. Dr. Akshay Sharma of Cleveland Clinic was the winner for his presentation, "Reading Tea Leaves: The Predictive Value of Individual Cerebrospinal Fluid Parameters for Post-Operative Hydrocephalus following Hemispherectomy for Pediatric Drug-Resistant Epilepsy." Prizes also were awarded to Dr. Rachael Peterson from Louisiana State University for "Predictors Of 90-Day Readmission Following Surgery For Sinonasal Malignancies Using a Machine Learning Model," and Dr. David Fessler of Rush Medical College for "Trivergent: The Next Evolutionary Step in Lumbar Posterior Fixation."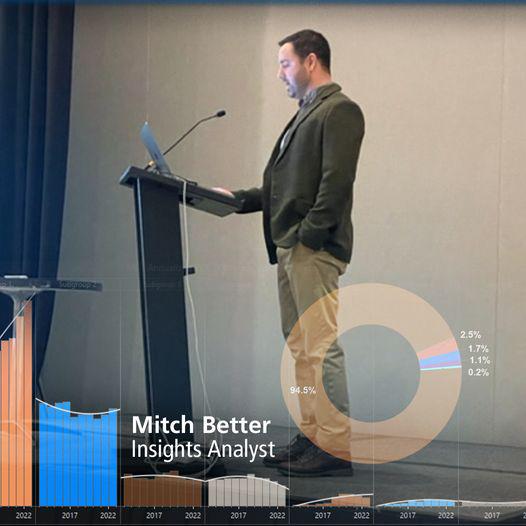 Mitch Better, insights analyst at Mayfield Brain & Spine
Another new presentation came from Mitch Better, insights analyst at Mayfield Brain & Spine, who presented on, "Data Analytics in Health Care: Streamlined Data for Actionable Insights."
Dr. Allan Hamilton of the University of Arizona College of Medicine also presented the Judah Folkman Memorial Lecture to the residents in attendance: "How to Survive and Thrive in Neurosurgery Residency." Dr. Folkman was Dr. Hamilton's advisor and mentor, serving as Chairman of Surgery at Boston Children's Hospital – the youngest person ever appointed to such a role in the modern history of Harvard Medical School. And Dr. William Clifton of Cleveland Clinic presented a lecture on "Training the Most Unique Generation of the Century: Diving into the Mind of Gen Z."
Mayfield neurosurgeon Dr. Bryan Krueger, who spearheaded the addition of the research presentation and awards to the Winter Clinics, said those events will help fulfill Mayfield's legacy of education and research while preparing the next generation of neurosurgeons.
"We were so impressed with the skill and vision of these young physicians, and we are excited to recognize research excellence at the Winter Clinics," Dr. Krueger said. "This research will make an impact on the practice of neurosurgery going forward."
Other Mayfield presenters included:

Dr. William Tobler, "Cauda Equina Syndrome: What's the Rush?"
Dr. Bryan Krueger, "Cement Augmented Spinal Fixation to Reduce Risk of Hardware Failure"
Dr. Zachary Plummer, "Clinical Masqueraders of Spine Pathology"
Dr. Marc Orlando, "Clinical Pearls and Hands-on Exam of the Low back/SI and Lower Extremity"
Jody Beckington, DNP, ACNP-BC, "Spinal Trauma: Updates in Trauma Guidelines"
Dr. Michael Kachmann, "Is Utilizing Image Guidance and Robotics in Spinal Surgery Becoming the Standard of Care?"
Dr. George Mandybur (formerly Mayfield), "Update on Electronic Socks and SCS Data Project"
Dr. Vincent DiNapoli, case review on targeted radiation therapy
---

Dr. Akshay Sharma of Cleveland Clinic was the winner of this year's featured research competition.
Contact:
Cliff Peale, Senior Writer/Media Relations Specialist
cpeale@mayfieldclinic.com
Office: 513-569-5236
Mobile: 513-544-1190