Mayfield Foundation friend and supporter completes his cross-country bike tour in pursuit of a cure for glioblastoma multiforme
After nearly three months of biking, Peter Carr completed his journey from Maine to California on November 18. Peter rode across the country to honor his late mother and raised money for brain tumor research. Peter has raised nearly $10,000 from donors from 17 different states. Donors to the Brain Tumor Fund include dozens of other cyclists and good Samaritans he met along the way as well as other families afflicted by GBM and friends of Peter's mother, Jenny.
Peter Carr's love of cycling began when he was a teenager. When he was 13 years old, he dreamed about one day biking across the United States. Nearly 20 years later, Peter flew to Bar Harbor, Maine, to begin a three-month ride to honor his mother, Jenny. Not only did Peter take the opportunity to pursue his dream of a cross-country bike ride, but he also utilized that chance to raise money for a cause close to his heart.
Peter's mother, Jenny, passed away from glioblastoma multiforme, a virulent form of brain cancer, and Peter dedicated his ride to raise funds for glioblastoma research with the Mayfield Education & Research Foundation.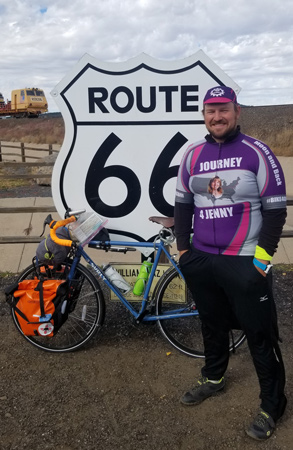 There were many days throughout his ambitious 99-day journey that Peter questioned his ability to complete his ride. He gained confidence and encouragement from the many friends -- and some strangers – who offered him a warm shower, soft bed or hot meal. He stands grateful for the hundreds of people who have not only helped him physically but have also donated to the Brain Tumor Fund.
Today, Peter is back home in Cincinnati and looking forward to starting a new job. He remains committed to continually raising money for brain tumor research with the Mayfield Education & Research Foundation. He hopes the money he raises will support a scientific breakthrough or perhaps a cure.
To learn about Peter's ride: Bike4gbm.com