Donor Spotlight: Mayfield patient celebrates his successful surgery by running the Nationwide Children's Hospital Marathon and raising money for brain tumor research
Chris Heybruch wakes up each morning and hits the road running. His daily runs are a way to just stay normal.
In January 2017, Chris suffered a seizure while at work. His coworkers called for an ambulance, and at the hospital Chris learned he had a brain tumor. Feeling overwhelmed and scared, Chris's wife, Jaime, immediately thought of their friend, Dr. Mike Kachmann, a neurosurgeon with Mayfield Brain & Spine and called him for help. The Kachmann and Heybruch families attend the same church and have children in the same grade.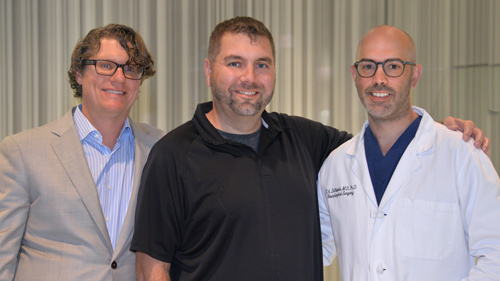 Dr. Kachmann reviewed Chris's case and enlisted the help of his colleague, Dr. Vince DiNapoli, also of Mayfield Brain & Spine. Dr. DiNapoli recommended surgery to remove his tumor.
"Drs. Kachmann and DiNapoli met us at the hospital and we immediately knew we would be OK," Chris said. "Our family is grateful to them as they guided us through the surgical and recovery process."
Dr. DiNapoli successfully removed Chris's brain tumor, an anaplastic astrocytoma and today Chris enjoys a new quality of life. Chris still maintains an active schedule of doctor appointments, medication adjustments and follow-up tests but has an overall encouraging prognosis.
To keep his spirits up and to focus on the positive, Chris runs. He runs with a purpose to recognize the care he received from Mayfield and to help advancements in brain tumor research.
Chris will soon run a half marathon at the Nationwide Children's Hospital Columbus Marathon, and he has chosen to raise money for the Mayfield Education & Research Foundation. Chris is racing for brain tumor research and as a way to thank Drs. Kachmann and DiNapoli for their compassionate care and support.
"Chris has a wonderful family and a great heart," Dr. Kachmann said. "In my job, it is easy to get caught up in the mechanics and the science of his surgery. However, as his friend, I can better see the toll that such an experience can take on a patient and their loved ones. Having a part in his treatment and recovery has made me a better surgeon, and for that I am grateful. I am honored that Jaime sought our help during such a frightening time. Thank you so much for your wonderful endorsement and for your commitment to the Mayfield Education & Research Foundation."
To support Chris as he runs a half marathon, visit https://www.mayfieldfoundation.org/donatenow and select Brain Tumor Fund in the designation dropdown menu
For immediate release:
August 22, 2019
---
For more information contact:
Deborah Livingston
Development Director
Mayfield Education & Research Foundation
(513) 569-5277
dlivingston@mayfieldfoundation.org