Wright State University researcher making progress on the study of pediatric brain cancer with Mayfield Foundation grant
With support from the Mayfield Education & Research Foundation, Dr. Robert Lober's study on DIPG, a form of childhood cancer, is yielding new insights. The Foundation awarded a grant to Wright State University in early 2018 for Dr. Lober to study how pediatric tumors develop and gain a better understanding of how they also develop a resistance to epigenetic modifying drugs. Dr. Lober's study is the first such investigation of how several tumor suppressor (TS) genes may provide a way for this to occur.
Dr. Lober and his team discovered that epigenetic modifying drugs (EMDs) slowed the growth but did not kill DIPG cells, meaning that cells would likely regrow after therapy. This information is important in determining the patient's course of treatment. The team also discovered that tumor suppressor genes behaved in a complex way in responding to epigenetic modifying drugs. This information should change assumptions about the way RNA and protein levels correlate in such conditions.
Additionally, the team found that the elimination of tumor suppressor genes killed DIPG cells instead of making them divide. This shows a more complex role for the tumor suppression proteins and shows that a small amount of the protein is necessary for cell survival. The findings made with this study provide the foundation for determining the best DIPG patient candidates for epigenetic modifying therapies.
Dr. Lober presented his results at the Mayfield Foundation's Art and Science of Healing in April 2018. He is submitting three separate peer-reviewed manuscripts for publication in national journals. Additionally, his Mayfield Foundation grant supported the next generation of neuroscience researchers in funding a PhD graduate student, an MD/PhD student, and four undergraduate students. This research project will be incorporated into the graduate students' dissertations, and it has helped the undergraduate students obtain further funding for independent research.
We wish Dr. Lober luck as he now applies for an Ohio Cancer Research Grant and National Institutes of Health R03. These grants would be the first step in a large-scale collaborative project that studies the mechanisms of treatment resistance that could prevent successful trials of new epigenetic modifying drugs for DIPG.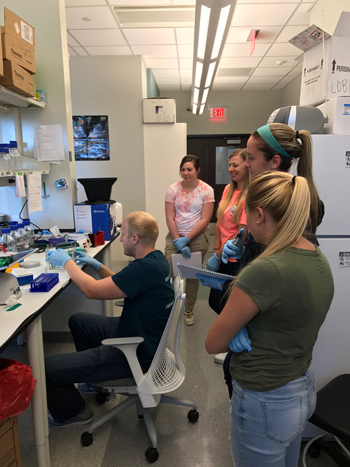 Research students in Dr. Lober's lab
For immediate release:
February 8, 2019
---
For more information contact:
Deborah Livingston
Development Director
Mayfield Education & Research Foundation
(513) 569-5277
dlivingston@mayfieldfoundation.org