Rutgers neurosurgeon Dr. James Liu headlines 2022 Keller Lecture
Neurosurgeons should carefully balance total removal of a brain tumor with preservation of a patient's nerve function and quality of life, acclaimed surgeon and researcher Dr. James Liu told a group of medical residents and fellows gathered December 2-3 at the 2022 Keller Lectureship, presented by the Mayfield Education & Research Foundation.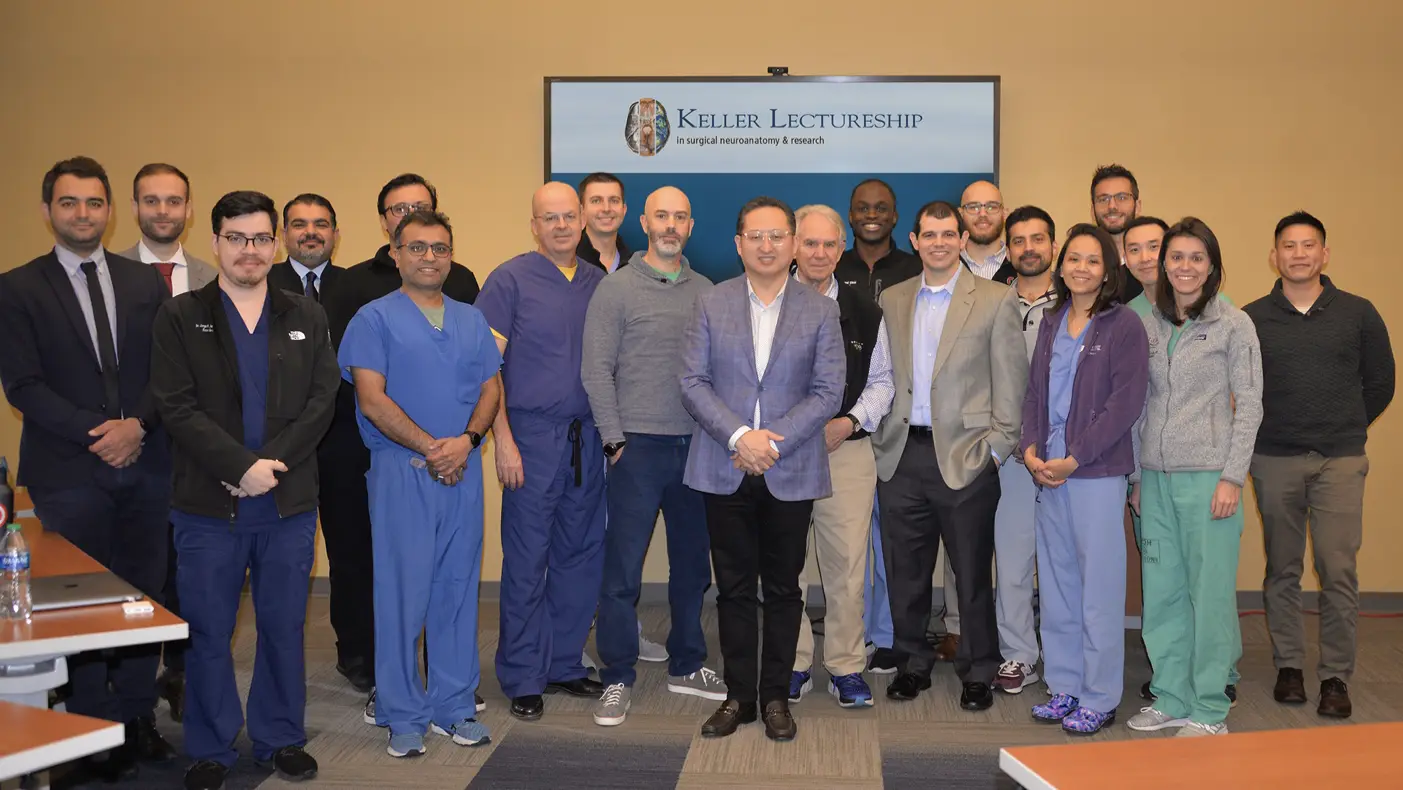 Dr. Liu, center, with Keller Lectureship attendees
Dr. Liu is Director of Cerebrovascular/Skull Base & Pituitary Surgery at Rutgers University-New Jersey Medical School. Leading off the latest version of the long-running academic lecture series as the 2022 Keller Lecturer, he spoke on "Walking the Line Between Functionality and Radicality," to an audience of neurosurgery and otolaryngology residents, researchers and fellow practitioners.
"The pendulum has swung," Dr. Liu said. "If you do decide to leave some residual tumor, you should try to leave the least amount possible while still preserving cranial nerve function. In recent years, we've really thought about quality of life and preserving function. How can we do both?"
Dr. Liu's lecture opened the two-day event that featured education from physicians practicing across the country and several from Mayfield Brain & Spine, as well as hands-on cadaver sessions in the Mayfield Surgical Innovation Center. The annual Keller Lectureship is one of the Foundation's signature events to fulfill its mission of advancing care for patients with brain and spine disorders through leading-edge education and research.
Dr. Liz Ginalis, a neurosurgery resident at Rutgers who was attending her first Keller Lecture, said it provides practical information and valuable demonstrations that simply are not widely available.
"Labs like this are necessary because of how complex this material is," she said. "You can't come in as a resident and figure this out as you go."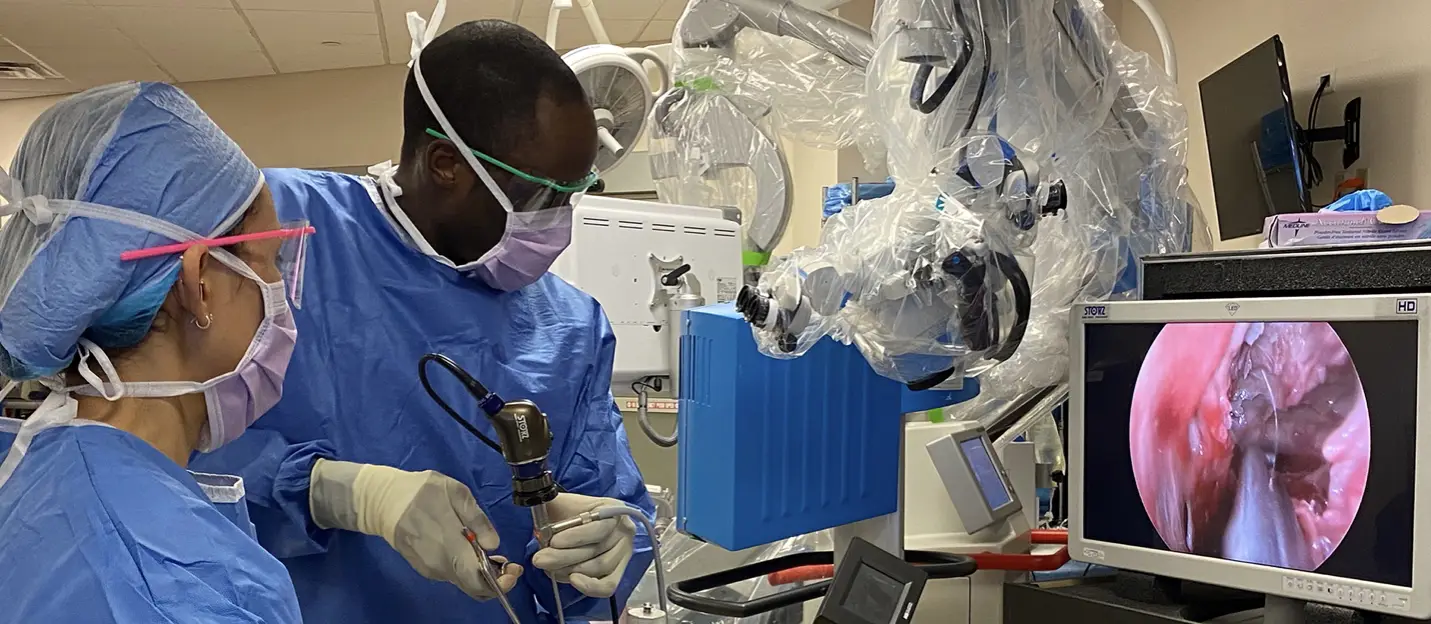 Vivien Dang (University of Louisville) and Roger Murayi (Cleveland Clinic) practicing the endoscopic endonasal approach.
The series is named for Jeffrey Keller, PhD, Emeritus Research Professor of Neurosurgery, Anatomy and Cell Biology at the University of Cincinnati and a board member at the Mayfield Education & Research Foundation, who has been training surgeons, residents and medical students in applied neuroanatomy for more than 30 years.
"Dr. Keller is a renowned neuroanatomist, and his academic work has contributed to the education of neurosurgeons around the world," Mayfield neurosurgeon Dr. Vincent DiNapoli said. "Many of us use that knowledge daily in the operating room. It is an honor to be here with him and our faculty to continue Mayfield's long tradition of education and research."
Other features of the 2022 Keller Lectures included:
Dr. DiNapoli spoke on "Bicoronal Approaches to the Anterior Skull Base."
Dr. Shaan Raza of the University of Texas, MD Anderson, lectured on "Subcranial Facial Approaches."
Dr. Yair Gozal, a Mayfield neurosurgeon, spoke on "Cavernous Sinus Anatomy & Triangles: Kawase/Dolenc Exposure and Decompression."
Dr. Lee Zimmer of The Jewish Hospital – Mercy Health lectured on "Transpterygoid Approaches."
Drs. DiNapoli, Gozal, Liu and Raza led case presentation discussions with the residents.
Faculty: Shaan Raza, Yair Gozal, Lee Zimmer, Jeff Keller, Jim Liu, Vince DiNapoli and Joe Breen
For immediate release:
December 6, 2022
Contact:
Deborah Livingston
Development Director
Mayfield Education & Research Foundation
Phone: 513-569-5277
dlivingston@mayfieldfoundation.org
---
Cliff Peale, Senior Writer/Media Relations Specialist
cpeale@mayfieldclinic.com
Office: 513-569-5236
Mobile: 513-544-1190