The 2020 Keller Lecture
The 2020 Keller Lecture proudly featured Michael Link, MD as the distinguished lecturer. Dr. Link completed his fellowship training under the guidance of Mayfield physicians and is now a neurosurgeon and professor at Mayo Clinic. The 2020 lecture was held at the Winter Clinics for Cranial and Spinal Surgery in Snowmass, Colorado. Dr. Link gave his lecture, 'Anterior Clinoid Meningiomas: Anatomy & Results' to an international audience of medical professionals in neurosurgery.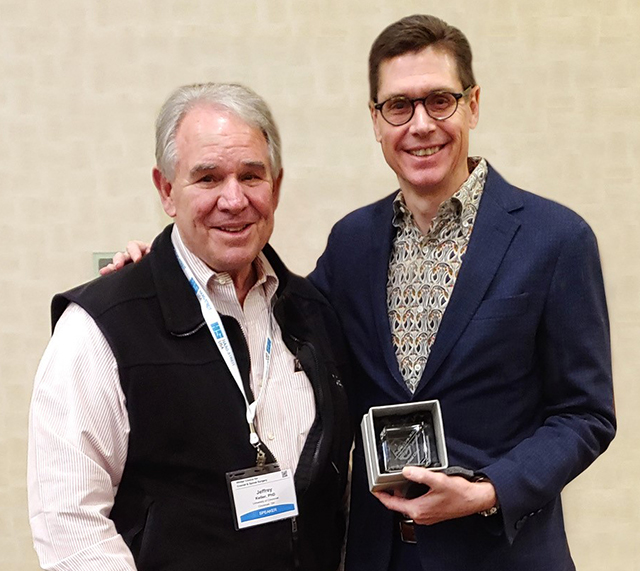 L,R: Jeff Keller, PhD with Michael Link, MD
Dr. Link was chosen this year because of his role as a leading neurosurgeon in the treatment of skull base lesions. In his lecture, Dr. Link stressed the importance of the basics of surgical anatomy in approaching and treating meningioma of the anterior clinoid.
"It is universally agreed that to go to the OR, you have to have a very good understanding of the anatomy you are going to encounter. You have to be able to think in 3D and the best way to get to that ability is to study the anatomy before you get there where things can be distorted and obscured by different pathologies," said Dr. Link.
In addition to mastering the anatomy, Dr. Link notes his commitment to educating the next generation of neurosurgeons on how to do the same.
"I tend to think of things in a very fundamental step-by-step process in executing an operation and I want my trainees to take away from that," recalls Dr. Link. "I approach certain tumors the same way every time. I don't think I am likely to waver from ways that work. I really think hard about how I can train somebody to do this. If you can do something really masterful but you can't pass it on, I think it's a big waste."
Looking back at his career, Dr. Link credits his training in Cincinnati as a positive life-changing experience and responsible for his career success.
Jeff Keller, PhD, was a notable mentor to Dr. Link during his fellowship. Dr. Keller can see how the lessons learned in Cincinnati played out throughout Dr. Link's career. "Much of that understanding he developed while he was a fellow in Cincinnati. The importance and understanding of surgical anatomy was stressed then and remains a linchpin in neurosurgery," said Dr. Keller. "He doesn't waver from his process and procedures. His process is well thought out and successful."
The Keller Lecture is presented by the Mayfield Education and Research Foundation in honor of Dr. Keller, who has been training surgeons, residents, and medical students in applied neuroanatomy for over 30 years. His extensive investigations and laboratory dissections are infused with deep appreciation for the historical traditions of neuroanatomy. The Lecture is made possible through generous donations. Each year, the lecture seeks to bring together physicians and students to learn from prominent neurosurgeons from around the world. Past lecturers and students note the great sense of comradery and support for continual learning.
Contact:
Deborah Livingston
Development Director
Mayfield Education & Research Foundation