Jeffrey Keller's Legacy & Impact in Neuroanatomy
Jeffrey Keller, PhD, was honored as a guest speaker at the 2023 North American Skull Base Society (NASBS) meeting. In preparing his talk, we reflected on his body of work and the collaborative sparks during his career spanning more than 40 years.
Simply put, Dr. Keller's enduring impact on the field of neurosurgery remains strong today. He has worked with generations of Mayfield Clinic neurosurgeons, fellows, residents and providers. He is an active member of the Board of Directors of the Mayfield Education & Research Foundation, and the Foundation's annual Keller Lectureship in Surgical Neuroanatomy continues to provide leading-edge training for a new generation of neurosurgeons.
Dr. Keller's long-term productivity and scholarship begs the question: How do you measure academic success and impact?
The "publish or perish" culture in academia places a high value on the number of journal articles as a metric for evaluating a researcher's productivity. However, this "quantity over quality" focus may not always result in significant contributions to the field.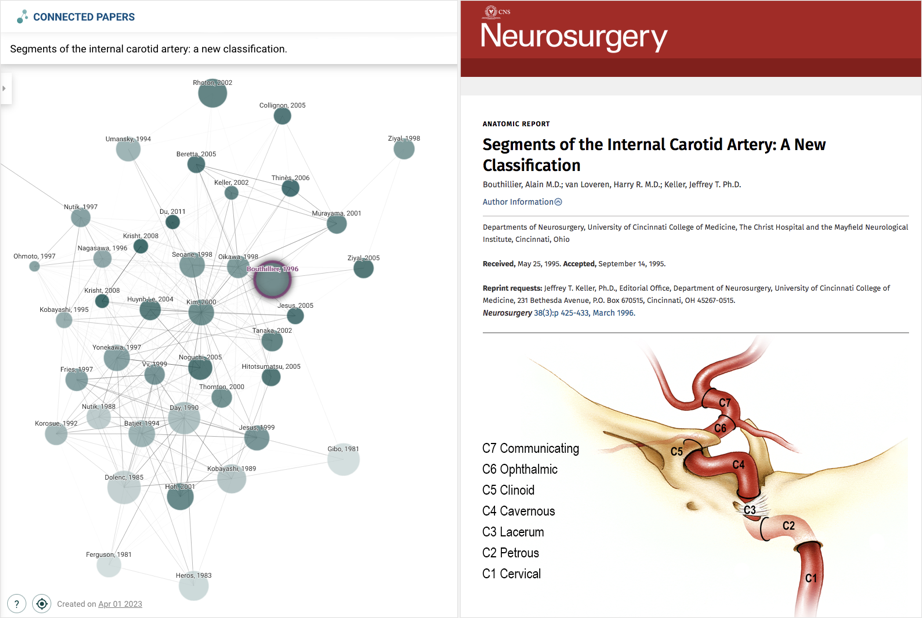 The H-index is a metric to measure the impact of a researcher's work. It is calculated based on the number of articles a researcher has produced and the number of citations those publications have received. Dr. Keller's H-index is 36, and even papers he produced decades ago continue to be read and cited. For example, the most highly cited article is Segments of the internal carotid artery: A new classification, written in 1996 with 351 citations … and still counting. Connected Papers maps a web of citation influence and impact.
As you will see and hear in Dr. Keller's NASBS talk below, the numbers are only half the story. His contributions to the field continue. Dr. Keller's career contains valuable lessons on how collaboration, opportunity, and chance foster an atmosphere for education and innovation. Listen to his stories of how the history of anatomy and embryology influenced his papers and the giants in neurosurgery with whom he has worked.

"Anatomy Continues Its Reign in Neurosurgery"
~ Tonya Hines, CMI