Giving Spotlight: Meet the Grimensteins
With gratitude, patients reflect on their Mayfield experience and share why they give to the Mayfield Foundation
Larry and Lois Grimenstein are proud annual donors to the Mayfield Foundation. After they both went through life changing surgeries at Mayfield Brain & Spine, they wanted to give back.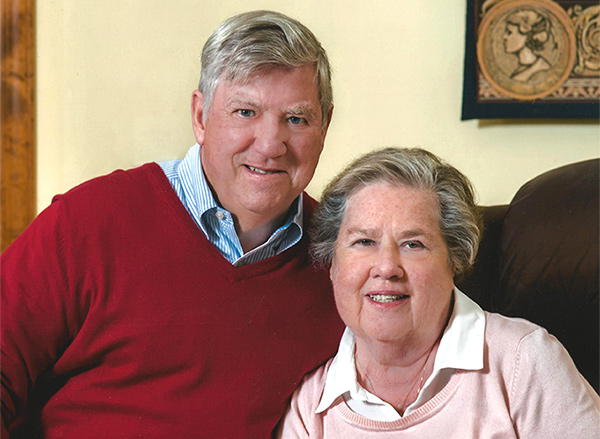 Larry and Lois Grimenstein
We support the Mayfield Foundation, not because of who they are, but rather what they do. Mayfield has given us what would be considered impossible gifts. We have both benefited from the knowledge and skill of the physicians and surgeons at Mayfield. We are especially grateful to William Tobler, MD, who has given us the ability to do and enjoy things in life again with our family, grandson, and friends. The Foundation's focus on research and education is testimony of Mayfield's commitment to advancing neurosurgery, and we are living proof.
Why is the Mayfield Foundation important to you?
Looking back on all the pain, and the question of a livable future, treatments at Mayfield Brain & Spine gave us a real life again. They helped give us back something that was not just important, but gave us back our lives. In both our cases after exhausting nonsurgical treatments and unrelenting pain, surgery was the last choice.
This was a necessary option in Lois's case, as she was having problems walking. She underwent a cervical fusion and had titanium plates and six screws inserted. When she woke up from surgery, she knew immediately that the unrelenting pain was gone. She soon was back to enjoying life and things she wanted to do.
In my (Larry's) case my problem developed more quickly and I also required surgery. I'm back to gardening and enjoying my job in Research and Development.
We believe it is important for the residents of Cincinnati and surrounding areas to support the Mayfield Foundation. We never know when we or a family member will need the expertise of a neurosurgeon. And when we do, we want the very best doctors who have been trained to use the latest procedures or technology. The Mayfield Foundation makes all of this possible. It gives promise for ongoing research and development, continuing medical education, and expertise that continually develops technologies, implants, and surgical procedures that will continue to help give patients a brighter future.